How To Add The "Wow-Factor" To Christmas Dinner
---
Posted on 26 November 2020
In years gone by you'd be feasting over the days of the holidays with a plethora of friends and family. Ok, so 2020 doesn't look like we'll be doing this in quite the same fashion, but we think that's even more reason to make an effort with your food and wine this Christmas.

One simple and rewarding way to add the "Wow-Factor" to your dinner table is to pull out a magnum of your favourite wine to keep the glasses topped up all the way through the meal. Libiamo currently has a collection of magnums from across Italy on their festive offer as fantastic gifts for the wine lovers in your life; gifts that you can enjoy and savour together. So we're going to pick three of our favourites and talk about the best seasonal food pairings to have with them this Christmas time.


Prosecco Valdobbiadene Superiore DOCG "Bosco Di Gica" & Bacon Muffins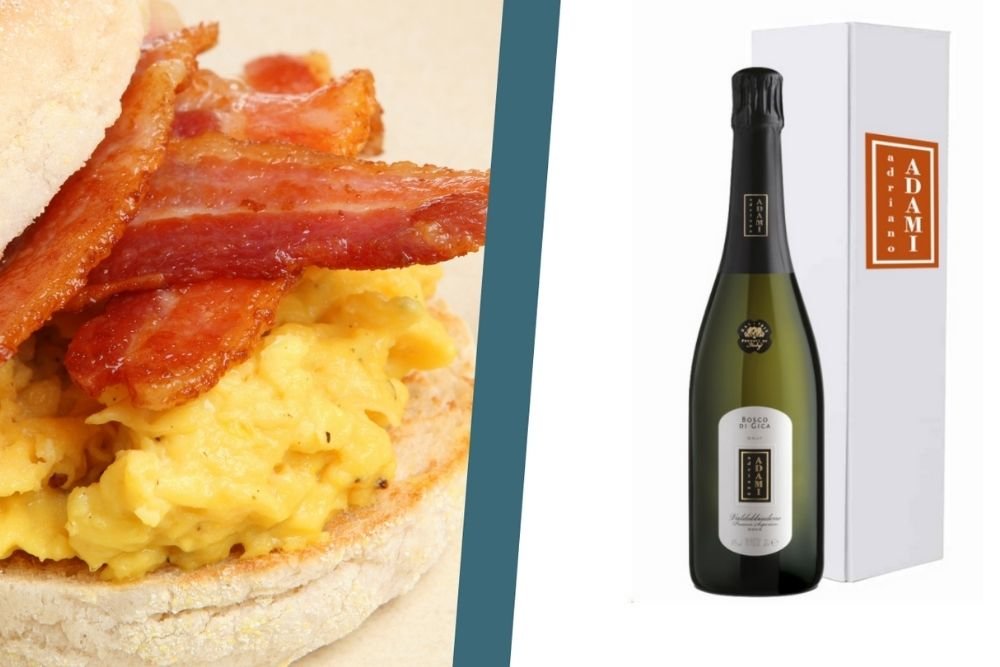 PROSECCO
Prosecco is the juggernaut of Italian wine. The UK more than any other country has fallen in love with these fresh bubbles from the Veneto region. Few Brits, however, know that the true heart of Prosecco is the stunning hill sites of the towns of Conegliano and Valdobbiadene. For sheer quality Prosecco, look for the "DOCG" on the label for more flavor concentration and finish. Adami's Bosco Di Gica has even more saline minerality to make those green apples and fresh lemons really pop in your mouth.

BACON MUFFINS
Of course, we mean English Breakfast Muffins here, not American sweet treats. Warm buttered muffins are the perfect home for unsmoked rashers of bacon, only cooked just enough so you keep the bouncy texture of the meat. A truly unctuous Christmas morning tradition in our house!

THE PAIRING
Salty bacon with saline minerality from the Prosecco is a perfect match. The fresh acidity and green fruit flavors lift the otherwise stodgy muffins to make a second glass (and a second muffin) an inevitability.


Brunello di Montalcino 2014 & Pot Roast Pheasant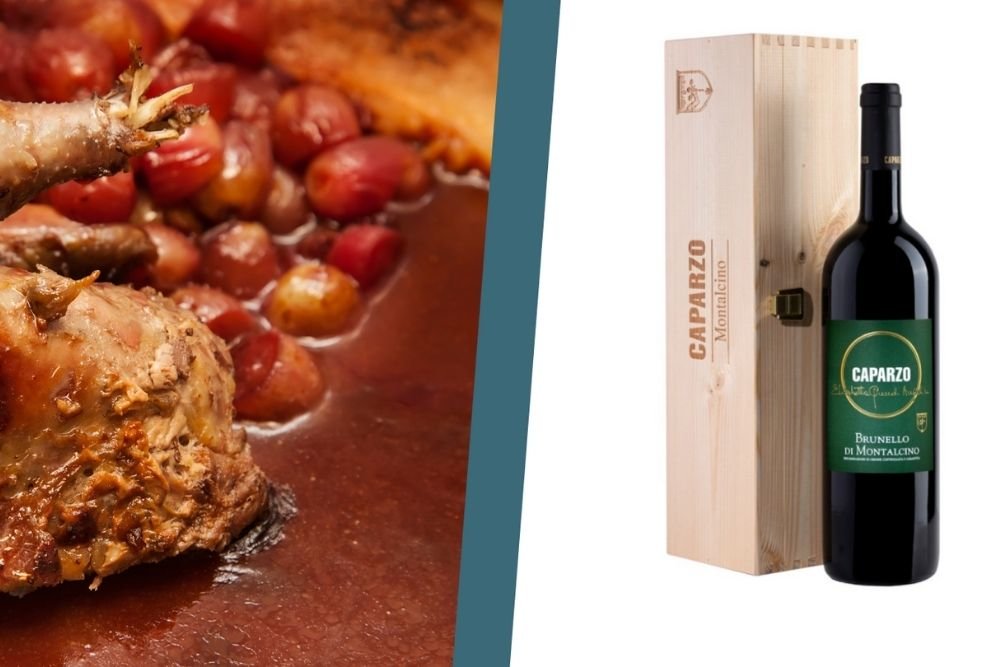 BRUNELLO
A true icon on Tuscan wine, the region around Montalcino is known for a very specific clone of Sangiovese which the locals call Brunello. This is still arguably one of the most mythical wines of Italy, with limited production and very high-quality thresholds in production. Seriously concentrated red fruit, aged game flavours, and sweet spices, the tell-tale acidity and tannic profile mean this wine can stand up to some chunky winter warmer meals.

POT ROAST PHEASANT
We're coming to the end of Pheasant season in the UK, which means there are plenty of birds for sale around the country's butchers. Slow roasted in a casserole dish with plenty of onion, garlic, bacon lardons, herbs, and vegetables, this otherwise simple stew has flavours that will grace any dinner table over the festive period.

THE PAIRING
The Brunello di Montalcino is from 2014 and has begun to develop game flavours along with its concentrate fruit profile which pairs perfectly with the pheasant meat. The acid and tannic structure of the wine also stands up to the "chunky" texture of the pot roast. A bowl of this, a glass of wine, some crusty bread and the long winter nights will fly by!


Barolo Brunate 2016 & Brasato di Barolo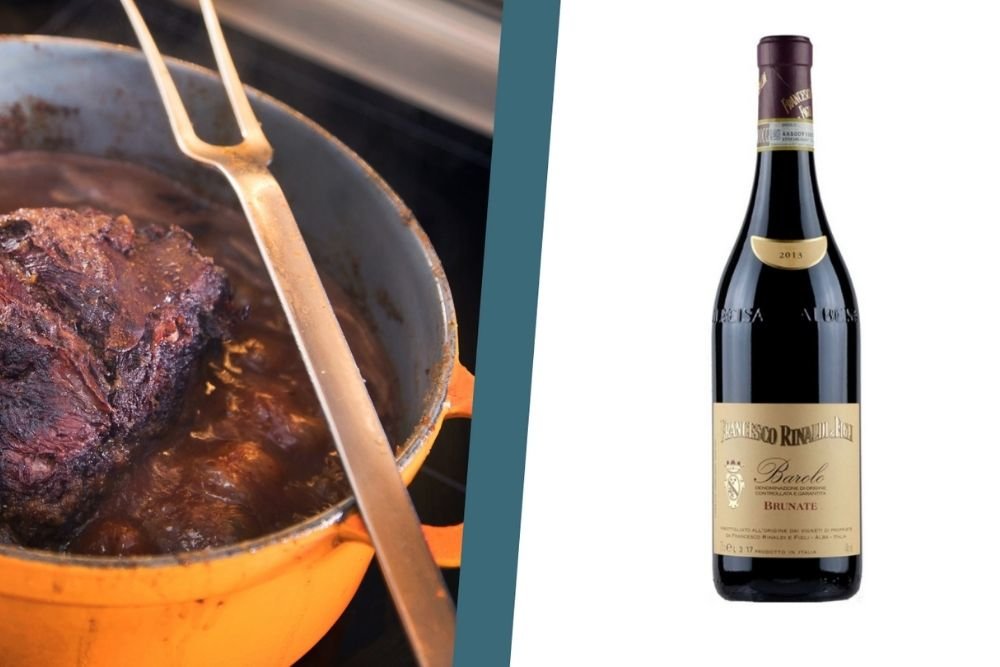 BAROLO
The King of Wines and the Wine of Kings. Barolo has been a regal wine since the mid-1800s and shows no sign of a drop in quality. Rinaldi's Barolo Brunate 2016 is from the village of Barolo itself, with Rinaldi's traditional methods making a feature of the tannic structure of the Nebbiolo grape. The sour cherry and licorice profile is an event on its own, but when paired with the right food it really makes those tannins work in the right direction.

BRASATO DI BAROLO
One of the most popular dishes in this region of Piemonte, Brasato di Barolo uses quite a bit of Barolo in the cooking. Some will worry about using such a great wine in cooking, but if you're looking to buy the best ingredients to eat the best food, then why not? Topside beef is the perfect cut, and a slow roast is the only way to go. Don't expect to be eating much before 3 hours after starting to prepare, but oh my it's worth it! Serve with the cooking juices on a bed of polenta.

THE PAIRING
As much as the flavors will match because…well…you've cooked with the same wine, the important thing is the texture of the beef will be best friends with the tannic structure of the wine. This is a decadent warming dish that will satisfy everyone's hunger at this year's festivities…and the wine's pretty good too!

For more detailed recipes please get in touch with us through the contact form and we can point you in the right direction.

The wines themselves are all on Libiamo's fantastic Christmas promotion, including gift boxes and free delivery whilst stocks last.
Check them out at www.libiamowines.co.uk.
---
Related post