Storm Ashdown's Recipe of the Month – Sesame Toast
---
Posted on 04 June 2021
As we're heading towards the end of the month, it can only mean one thing here at Libiamo HQ…it's time for another fabulous recipe from Storm Ashdown to pair with one of our wines from our forthcoming Online Wine Tasting.

This Friday evening we'll be heading to Italy's far North East, and the stunning valleys of Alto Adige. From the line-up of wines, Storm's picked out Cantina Terlano's gorgeous Gewürztraminer, full of ripe fruits and Asiatic spices. So what better to pair with it than a luxury takes on a UK takeaway classic…Sesame Toast!

The following recipe is taken from Storm's brilliant Instagram account, and we'd encourage you to head over to her profile and give her a follow.

Storm's Sesame Toast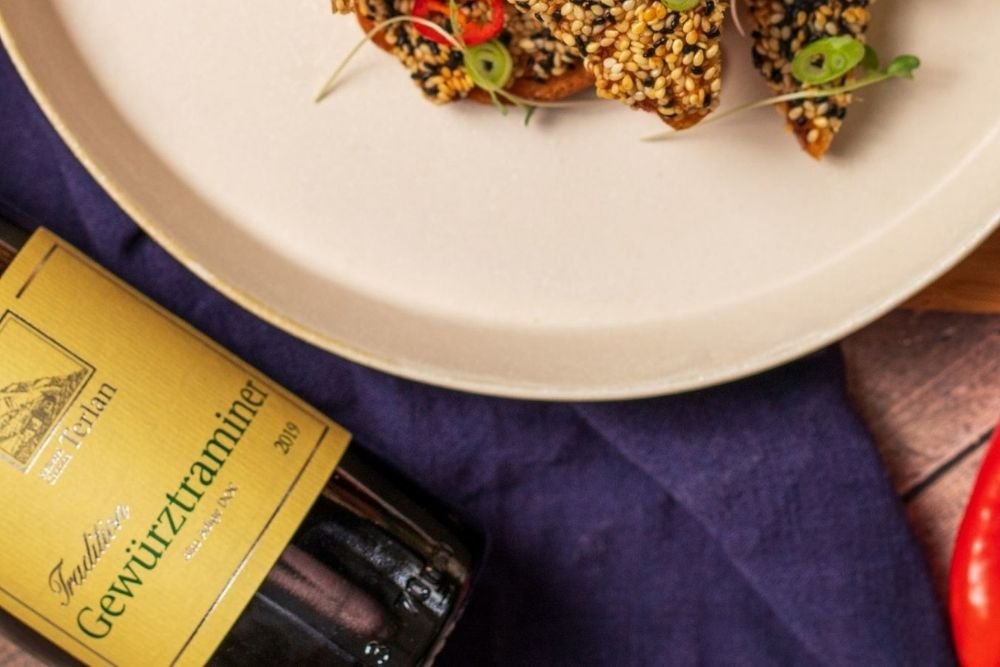 I have teamed up with Libiamo Wines again for another pairing ahead of their monthly wine tasting. The Gewürztraminer Classico by Cantina Terlano is the perfect pairing for these spicy prawn and crab sesame toasts. Whilst this beautiful Italian wine will pair fantastically with a gorgeous piece of fish, chicken or pasta dish, they also go wonderfully with more British foods or in this case, a takeaway classic, sesame toasts! The spicy chilli and the combination of crab and prawn work so well with this special wine.

Packed full of flavours of the tropics with mango, and lychee, it also has notes of honeysuckle and fresh fruits. It is quite acidic so cuts through the richness of the toasts.

So next week we will be exploring the Alto Adige region of Italy, expertly lead by Mike Turner from Please Bring Me My Wine - Sounds like fun? Head over to their page to book before Monday 24 May to get your wines in time!

The Ingredients

Makes approx 4/5 pieces

4/5 slices of white bread
150g of raw prawns
100g Crabmeat
1/2 large red chilli (adjust depending on tolerance)
1 garlic clove
2 spring onions
1 tbsp of ginger
5g fresh Coriander stalks and leaves
Pinch of caster sugar
Pinch of white pepper
2 tbsp of cornflour
1 tbsp Light soy
1 tbsp Sesame oil
1 egg
black and white sesame seeds
To fry: a neutral oil such as vegetable or sunflower

The Recipe

In a food processor blitz garlic, spring onion, coriander, chilli and ginger. Add the prawns and blitz a further time but keep chunky! Add the rest of the ingredients except for the sesame seeds. Blitz again until all incorporated and you have a thick paste. If it is a little sloppy, add a little more cornflour. Spread a layer of the prawn and crab mixture on each slice and dip it into the sesame seeds.

Heat up your neutral oil to approx. 180 degrees. Gently fry off your toasts, wet side down to begin with and then flipping once golden. Once cooked, place on kitchen roll to absorb any excess moisture.

Serve alongside a homemade sweet chilli sauce, a sprinkling of spring onions and sliced chilli.

The Wine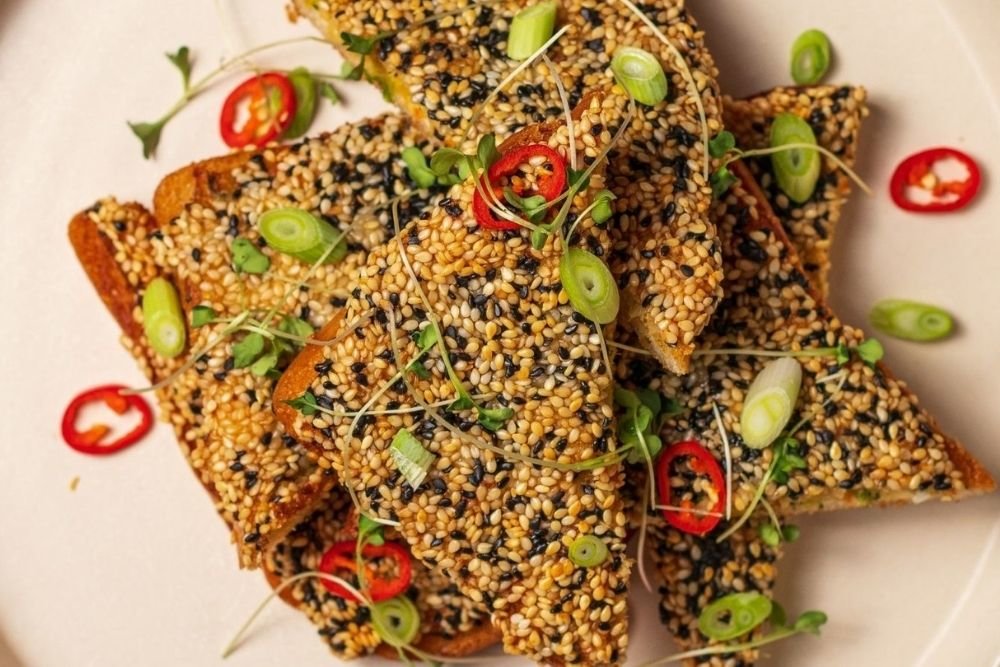 Gewürztraminer Classico by Cantina Terlano

Gewürztraminer Classico is an aromatic white wine from Trentino Alto-Adige, a region in northern Italy. The nose is packed with tropical notes of lychee and mango with delicate hints of honeysuckle and rose petal. On the palate, the fresh fruit and lively acidity combine with sweet spice and mineral notes to leave a very round and at the same time firm impression.

Cantina Terlano is a famed producer in Alto Adige, located in the heart of the Terlan wine-growing region and founded in 1893, it is one of the oldest Alto Adige coops. This wine collection proves that Terlano's wines are able to age harmoniously for decades.
---
Related post