Prosecco Labels Explained
---
Posted on 23 June 2021
Prosecco is a fabulous collection of bubbles from the self-same named region in North Eastern Italy. The Prosecco that flies off the supermarket shelves in the UK has turned it into its very own brand. A brand that you'd think the winemakers and lawmakers of Prosecco would be glad to have and use to its fullest…

Unfortunately, when we begin to talk about the better Proseccos on the market, you'd be wrong to think that. The top producers are so proud of the inter-regional differences that to them the consumer needs to know "this is a wine from a great village or hill" as opposed to "this is a really good Prosecco", and the labeling starts getting very confusing very quickly.

But never fear, we're here to help with this (hopefully) helpful little glossary of Prosecco labels…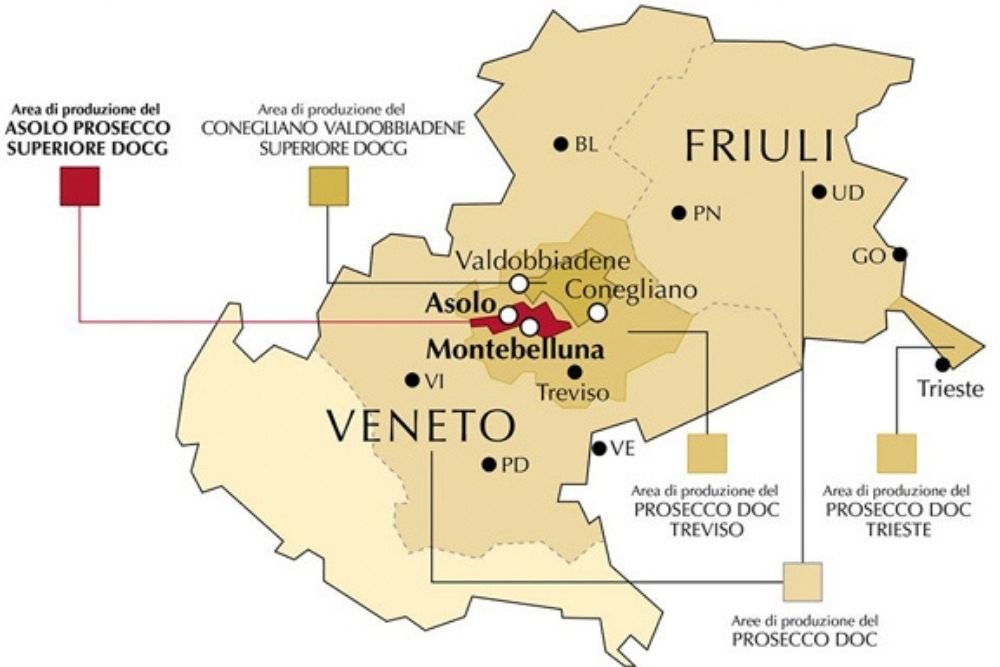 Prosecco DOC
This is the vast majority of Prosecco made and sold in the world. Since its explosion in popularity, and after a reorganization in 2009, the Prosecco DOC region has increased in size, now including large areas in Veneto and Friuli. Some are good, some not so much, but these are the cheaper end of the price scale and you can bag yourself a real bargain if you find a good one.

Asolo Prosecco Superiore DOCG
Prosecco Superiore is the next rung up the ladder, and denotes wines made in the original hills of Prosecco. These wines are named after the hilltop town of Asolo on the southern shores of the Piave River. DOCG regulations mean that Asolo is always in a bigger font than Prosecco Superiore because it's all about showing off where it's from.

Conegliano-Valdobbiadene Prosecco Superiore DOCG
Just over the river, to the north, and deep in the hogback mountain ranges of the Southern Dolomites are the twin towns of Conegliano and Valdobbiadene. The vineyards surrounding them are the spiritual home of Prosecco and make the vast majority of high-quality Prosecco Superiore. Beware when looking at the label, they have the same font issue as with Asolo, and some very proud winemakers from Valdobbiadene will drop the word Conegliano (and vice versa).

Conegliano-Valdobbiadene Prosecco Superiore Rive DOCG
Within the regions surrounding the towns of Conegliano and Valdobbiadene are 43 Rive. These are communes that are noted as having the best soils, slopes, and microclimates in the region, and should be capable of producing the finest Prosecco wines available.

Valdobbiadene Superiore di Cartizze DOCG
The most famous hill in Prosecco, however, is just outside the town of Valdobbiadene and is called Cartizze. This is not a big area, at just over 100 hectares, but these vineyards are considered the best terroir in Prosecco, and arguably the greatest expression of the wines money can buy.

Different Styles
Wouldn't it be lovely if the complications ended there? Sadly there are different styles within each region. Most of the style range rests upon the sweetness of the wines. Most Prosecco wines on the market are "Dry", which is not actually dry and has a touch of residual sugar in them. If you like them drier, look for the word "Brut". And if you like them funkier, look for the term Col Fondo (or Sui Lieviti) for a Prosecco that has been left to finish fermenting in the bottle on its yeast, definitely one for the more adventurous!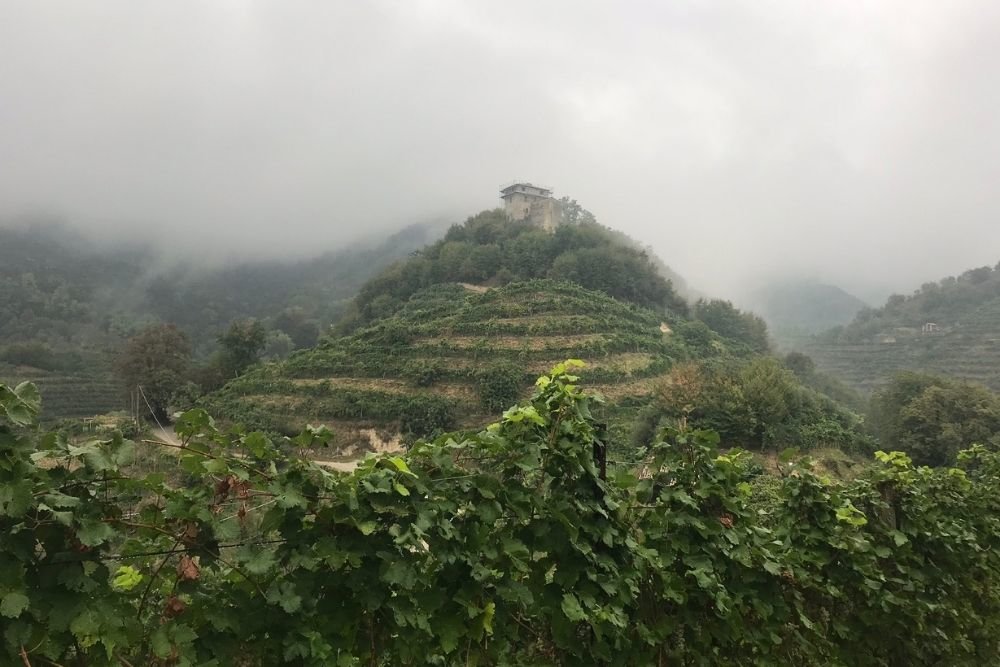 ---
Related post