Piedmont wines, an endless treasure…
---
Posted on 17 July 2020
Piedmont - or "Piemonte", meaning "at the foot of the mountain" - is the Alpine region from where, almost two centuries ago, the idea of a united Italy started to become reality.
Piedmont is also the land of refined cuisine and wines, where astonishing Barbarescos fiercely compete with stellar Barolos.

As its name suggests, this northern Italian region of Piedmont sits at the foot of the Alps which encircle its northern and western sides. To the south, the Mediterranean Sea and the Apennines set the perfect sunny slopes for vine growing; some of the very best and globally praised nectars from the peninsula actually benefit from its hilly landscapes. With more DOCs and DOCGs (Denominazione di Origine Controllata / e Garantita) than any other, many small-scale family wineries and a deep focus on quality, the spot is often described as the Italian "Burgundy".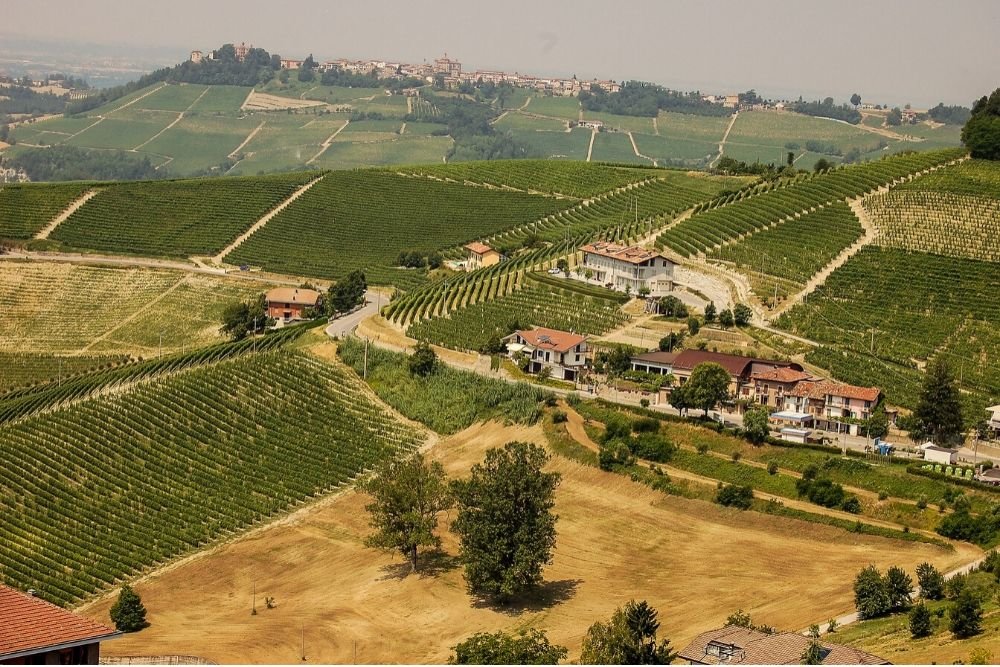 With no red, no Italian art de Vivre! And in Piedmont, no exception to this wonderful rule.

Red wine accounts for two-thirds of the production of the region and just perfectly pairs with local flavourful filled fresh-egg pasta and aromatic white truffle dishes.
Let's frame it.

1. Must-taste and keep: the high-end Nebbiolo-based wines
The whole reputation of the region has been built on this thick-skinned grape variety which could be compared to Pinot Noir for its ability to convey a sense of place. It produces austere, floral red wines with high acidity and pronounced tannins that make them tough in their youth but extraordinary with a decade of aging.
Barolo and Barbaresco are both this kind of nectars. They represent a very tiny part of the production but are the most outstanding Piedmont red wines.
Barolo is simply and effectively called "the King of Wine" - and sipping our Barolo Le Brunate by Francesco Rinaldi, one of the most illustrious wineries in the region, will make you get why!
Complex Barbaresco has long been considered, erroneously, as a lesser wine for being more refined.

2. Must-drink and enjoy: Barbera & Dolcetto wines
Barbera - Piedmont's most widely planted grape - and Dolcetto actually come first in terms of volume.
Barbera is a classic Italian red which has been recently gaining popularity; it tends to be tannic but softer and rounder than the Nebbiolo counterparts, tangy sour cherry-scented with good acidity and moderate complexity.
Despite its name (meaning "little sweet one"), Dolcetto wines are dry and fruity; they are generally made to be savored in their youth, with some exceptions for great producers of Dolcetto d'Alba, Dogliani or Dolcetto d'Ovada.

3. Must-discover: indigenous grapes varietal wines
Some surprising purely local gems complete the Piedmont red wine spectrum. Vivid varietal reds of different styles are made from rare grapes such as Freisa, Grignolino, Ruché, Etc. Amongst those, Brachetto d'Acqui deserves a very special mention as a deliciously sweet sparkling red wine.
White wines from Piedmont are less top-of-mind but still remarkable…
Although Piedmont is mostly known as a red-wine region, it produces some well-regarded whites.

Dry Gavi - made from Cortese grape and known for its fruity flavors and crisp acidity - is the Piedmont white wine of the connoisseur; crafted with art in a sparkling style by the renown Castellari Bergaglio family, it turns unique, unmistakably linked to this distinctive terroir, inevitable...

Arneis is a medium-bodied fresh, mineral, and grassy wine. And potentially Gavi's best enemy in the conquest of the Piedmont wine lovers' palates.

Last but not least, some more confidential assets are also worth stressing.

Moscato d'Asti is a sweet lightly sparkling wine produced from Moscato Bianco - an ancient grape with intense fruity and floral aromas - which has become a true success story in the past decade. Erbaluce is a brightly acidic wine with spicy herbs aromas; Favorita a dry and bitter option and Nascetta a spicy saline one.

If the region has clearly identified its star grapes, the winemakers continue to experiment with new varieties in the background (Viognier, Chardonnay…). It now even stands out for Riesling like this Hérzu by Ettore Germano, blessed with one of the best vineyards in Alta Langa.
---
Related post