Pasta & Pesto alla Genovese
---
Posted on 02 July 2020
We are dreaming of adding it to just about every dish, for its unique taste obviously but also for the simple pleasure of harvesting it on the balcony and be literally exalted by its inimitable smell.

Yet it still gives one of its best version of itself in the pesto Genovese, born in the beautiful northern region of Liguria.

Forget the store-bought industrial sauce that, apart of being unhealthy, it loses all its magic anise-mint scent with the high-heat sterilization; just go for an easy and 20 minutes prep home-made bet that will basically have nothing to do.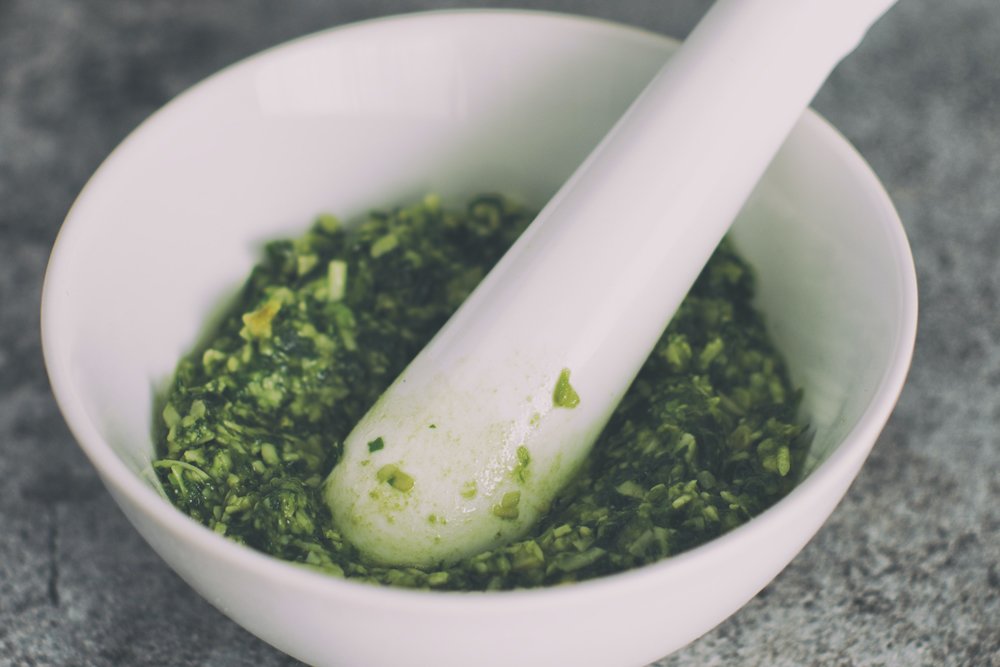 Make an authentic pesto Genovese for your best pasta dish.

First of all, mind the tools, ingredients, and time to succeed.
A marble mortar and wooden pestle are traditionally used to make this uncooked cold sauce; not only to make it look cool and traditional but because they ensure hat basil leaves do not oxidize as they would do under the steel blades in a food processor. Then the result would be very dark green and bitter, which might also happen if the preparation is not done at room temperature and as quickly as possible.

That said, there are only 7 ingredients - to be chosen among the best - which are required; please do not add fancy ingredients such as ricotta, cashew nuts, or lemon juice… or keep it perfectly secret from any Italian sensible food lover if you still want to survive!

Just strictly stick to this shortlist (except for proportions, according to taste):

4 bunches of fresh and organic basil (about 60/65 small leaves)
50/70g of aged Parmigiano Reggiano (or Grana Padano
20/40g of pecorino cheese (Fiore Sardo
20/30g of pine nuts
1/2 cup of extra-virgin olive oil (even better obviously if from the Italian Riviera!)
1/2 peeled garlic cloves
4/5 grains of coarse salt.
After washing the basil leaves in cold water, do dry them thoroughly on a kitchen towel.
Place the garlic in the mortar with a few grains of salt and start pounding with the pestle.
Add the pine nuts and crush them until they are smooth.
Add the basil while continuing to pound the mixture using a light circular movement of the pestle against the walls so as to tear the leaves up without cutting them.
When the basil drips bright green liquid, add the two grated cheeses; mix everything together. Slowly pour some oil until you get a homogeneous, creamy consistency, then transfer it to a bowl and finish mixing it with the remaining oil.
Ready! A tavola!
Last but not least: DO NOT COOK IT as you would usually do with other pasta sauces. All the charm here bears in its raw flavor so just add it in your serving bowl with a little reserved cooking water to bind it all together.
If you were in Genova, you'd probably have this original pesto served with trenette pasta (a linguine-like noodle), potatoes, and green beans, all cooked together in the pot… but at home, it is all yours!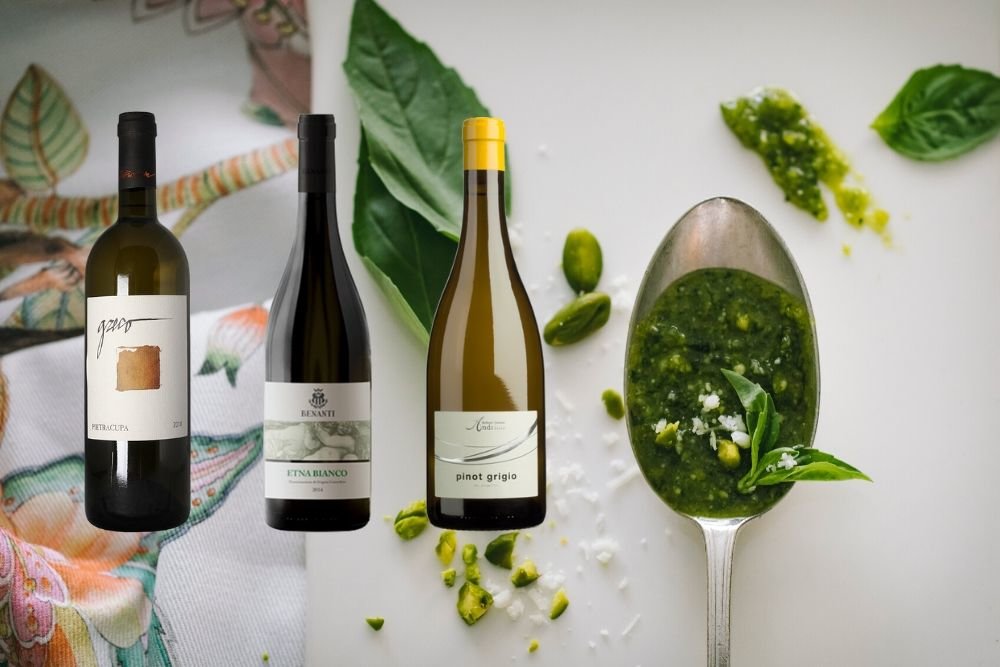 Pair your pesto sauce with the perfect Italian wine.

The pesto sauce is both pungent - with assertive flavors from the garlic and cheeses - and delicate through basil nuances. It is bright and fresh so you want to find a wine showcasing similar traits. Young, aromatic wines will always be far better than any aged, overripe or oaky nectars to enrich and enhance it.

With your simple - but undoubtedly amazing - pasta dish dressed with pesto, we recommend a fruity but mineral Pinot Grigio from Trentino Alto Adige, one of the best Italian white wine regions and recognized winemakers but also some southern nectars like Greco di Tufo from Campania or Etna Bianco from Sicily.
---
Related post