Superstars of Italian Red Wine
---
Posted on 09 November 2020
At Libiamo, we aim to provide the finest Italian wines for our customers. In our mixed case offers you can all get a taste of the best that Italy has to offer with just one click. But we don't want to leave you there with no great stories, or tasting notes, or food pairing ideas. Where's the fun in that?
What follows is an in-depth look at each of the 6 superstar red wines in our "Fine Italian Reds" case, available right now online. The wine itself is tasty, but pair that with the right food, and the stories behind the history of these wines, and the experience just flies even higher.
We hope you enjoy our Fine Italian Red Wines.

Brunello di Montalcino 2015 by Caparzo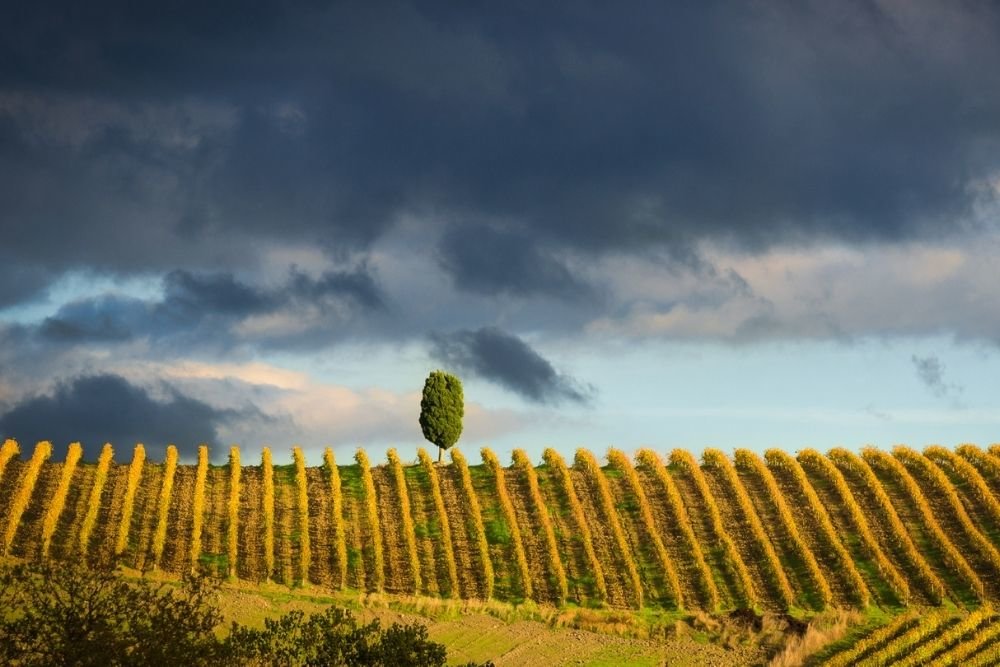 Brunello di Montalcino is regarded by many as the most iconic, historical red wines to come out of Tuscany. Chianti has the fame, and the so-called "Super Tuscans" of Bolgheri have the price, but few can match Brunello for its aura of luxury.
The origins of this wine are a bit hazy. Long story short, it revolves around the Sangiovese grape, the famous red wine grape of Tuscany. The gardeners out there will know that every plant has many clones, and it was the isolation of the Sangiovese Grosso clone, that became known as Brunello, that really made the wines of this region sing. When that happened is up for debate, but the main story goes that it was in the 1880s and the main producer at the time, Biondi-Santi, had a near enough monopoly for the first 60 years, adding to the aura and rarity value.
What's not up for debate is that the region around Montalcino, just south of Siena, is perfect for Sangiovese. Slight warmer and drier than the Chianti fields of Tuscany, but tempered by westerly winds from the sea, Sangiovese hits its ripest round here, leaving fuller, richer expressions than the rest of Tuscany.
The Caparzo winery was established in 1970 when the true value of these vineyards was really discovered. They select fruit from vineyards in Caparzo, La Casa, La Caduta, Il Cassero, and San Piero Caselle, meaning that there is always a fine selection of grapes for the perfect blend year in year out.
Their 2015 Brunello di Montalcino is vibrant red in color and packed full of fresh red fruits including red cherry and raspberries. There's a really obvious herby smell of tomato leaf and oregano and sweet spices of licorice and clove. It packs a punch at 14% abv but eaten with a plush pasta ragù or hard cheese and you can soften the alcohol and enjoy the heady aromas and gloriously full body.

Barbaresco 2016 by Produttori del Barbaresco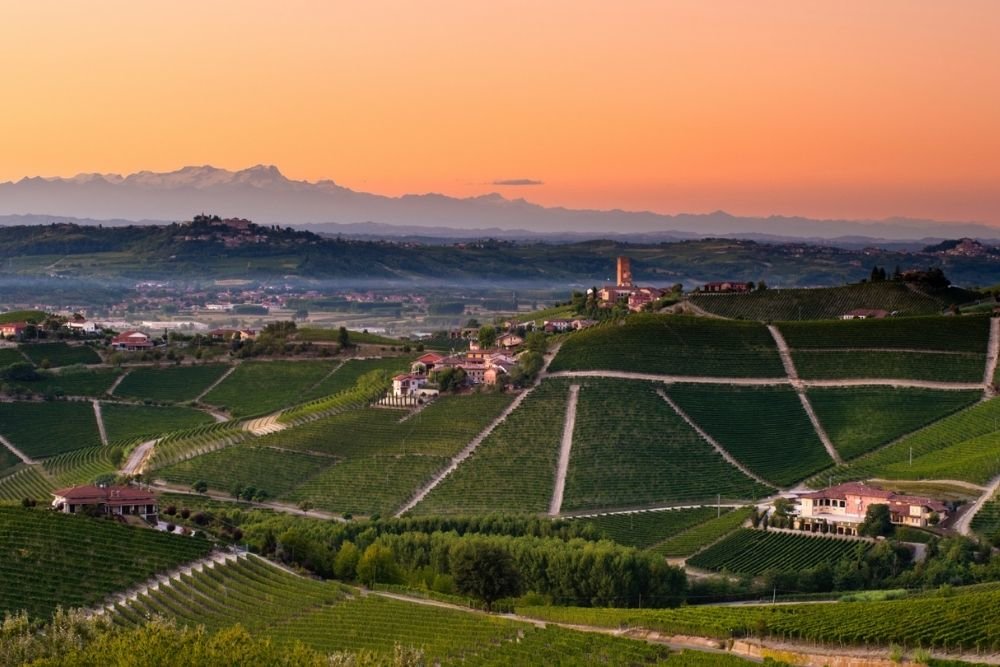 Barbaresco is a powerful and special red wine from three communes around and including the village of Barbaresco, just to the South East of Alba in Piemonte.
For many years this wine was seen as the poorer relation of the famous Barolo wines, also produced from the Nebbiolo grape, from a few miles to the east. That made sense. Barolo became a red wine superstar in the early 19th century, whilst Barbaresco had to wait until the 1890s and the pioneering work of Domizio Cavazza at the local co-op, the Produttori Del Barbaresco. This co-op has since gone on to become one of the highest quality and most famous co-op's in the world.
With grapes ripening slightly earlier than in Barolo, and lighter soils, the wines of Barbaresco are, in general, softer and fruitier and more expressive when young. They also age more quickly, with many suggesting that the ideal drinking window is 5-10 years after the vintage.
The fame of Barbaresco flourished in the 1960s thanks to the work of Giovanni Gaja, Bruno Giacosa, and our friends at the Produttori del Barbaresco. The absolute willpower to stick to quality in the face of many other wine regions in Italy chasing short-term commercial success has meant that Barbaresco, with its stunning hilltop village a must for wine tourists, remains a favourite of wine lovers across the world.
The 2016 Barbaresco from the Produttori del Barbaresco is a powerful mix of black and red fruits, and a lifting medicinal and herbal note of sage and rosemary. The sweet licorice spice on the palate adds a lovely depth to the smooth, silky mouthfeel. There is serious quality in this winemaking.
It can age for another 5 years or so, but we'd advise you to drink it now, adorning the dinner table alongside pheasant, grouse, or partridge, which are in season right now.

Barolo Cannubi 2015 by Francesco Rinaldi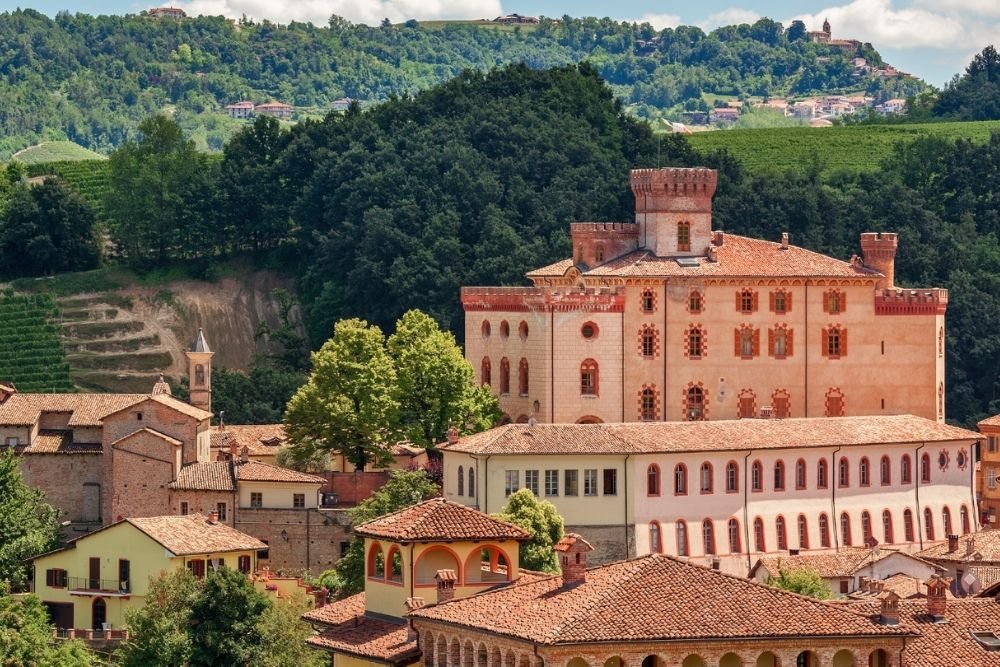 "The King of Wines and the Wine of Kings!" This Piemontese red wine is made from Nebbiolo grown on the hillsides around the towns in and around the ancient castle town of Barolo, just south of the famous truffle city of Alba.
Nebbiolo gets its name from the Italian word for fog (nebbia) as it ripens so late that the autumn fogs have already set in by the time it comes to harvest. Because of the lateness, Barolo was a sweeter wine for centuries, as the fermentation rarely completed in the cold cellars of the winter. It wasn't till the first half of the 19th century when a French scientist, working for the Marquise of Barolo, managed to secure the right conditions and our modern idea of a superstar of the dry red wines of Italy was born.
Barolo producers were either aristocrats themselves, or had strong links to the royal court in Turin and enjoyed great fame at the plush banquets of the House of Savoy.
Over the years, the stylistic differences between the wines produced from the different townships of the Barolo region were increasingly recognized. The softer, fruitier, more aromatic wines came from Barolo and La Morra. The more intense and structured wines came from Monforte D'Alba and Serralunga D'Alba.
But even within these towns, the differences in quality of certain vineyard plots became apparent too. Producers started to bottle "single vineyard" wines to show off the best and finest expression they could find. Despite there being no legally designated "cru classification" system, it's widely accepted that within the town of Barolo three vineyards have a claim to greatness: Sarmazza, Brunate, and Cannubi.
This wine by Francesco Rinaldi is 100% from the Cannubi vineyard. Francesco Rinaldi e Figli continues to make wines the traditional Barolo way, avoiding the modern idea of new, smaller oak barrels to suit the fashions of the market. It's pure fruit, allowed to develop in its own time in old, large Slavonian oak barrels.
The wine itself is light ruby in color, going towards garnet orange with age. The lightness and aromatics from the soils of Cannubi lead to floral notes of rose and violet, and strong tastes of pure cherry fruit. The great thing is that you can drink this now or age it for 15-20 years. It's up to you.
If you do choose to drink it now, however, try it with roast goose or a grilled fillet steak.

Chianti Classico Gran Selezione 'Don Tommaso' 2016 by Le Corti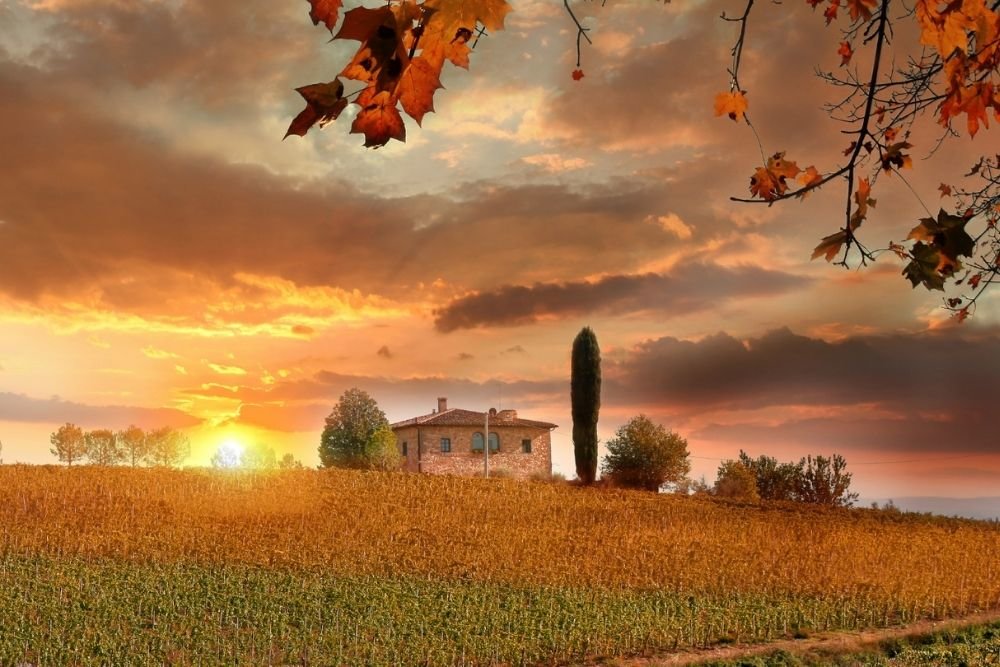 Chianti Classico is a red wine made from (mostly) Sangiovese grapes grown in the ancient heartland of what is now the larger Chianti wine region in Tuscany. One of the oldest designated wine regions in the world it was granted special status by the Medici Grand Duke Cosimo III way back in 1716.
From a marketing point of view, Chianti itself has had a patchy reputation. As the area grew in the 1960s and 1970s, and regulations were far from strict, many top wineries began to stop using the name Chianti altogether to avoid associations with the infamous rack 'em and stack 'em wines in straw bottles adorning every Italian restaurant across the world.
It was in 1984 that this all changed and Chianti Classico became a beacon of quality. Producers were forced to more stringent, quality-minded controls, and only the best could continue to use the name. The reputation of Chianti Classico was restored and it rejoined the ranks of the best red wines of Italy.
It's out of the archetypal "Chianti-shire" countryside that a Renaissance villa rises, housing the home and winery of Principe Duccio Corsini, a cheroot-chewing connoisseur of Chianti and also a gardening expert. In contrast to the medieval origins of his family home, his world-famous winemaker Carlo Ferrini helps him craft very modern wines. They are designed to display richness, depth of color and fruit, and noteworthy complexity.
The Gran Selezione "Don Tommaso" is vibrant ruby red in color, with a touch of the classic Sangiovese transparency. The aromas of violet, cherry, red currant, and raspberry jam jump out of the glass, and the undertone of spice, pepper, leather, and walnut add to a huge complexity on the nose. A well balanced and fresh wine in the mouth, this shows the typical finesse and persistence of the north part of Chianti Classico.
We're aware the best food pairing is not ideal for any vegetarians out there, but Chianti is just down the road…it's got to be a classic Fiorentina steak!

Amarone Classico La Marega 2016 by Le Salette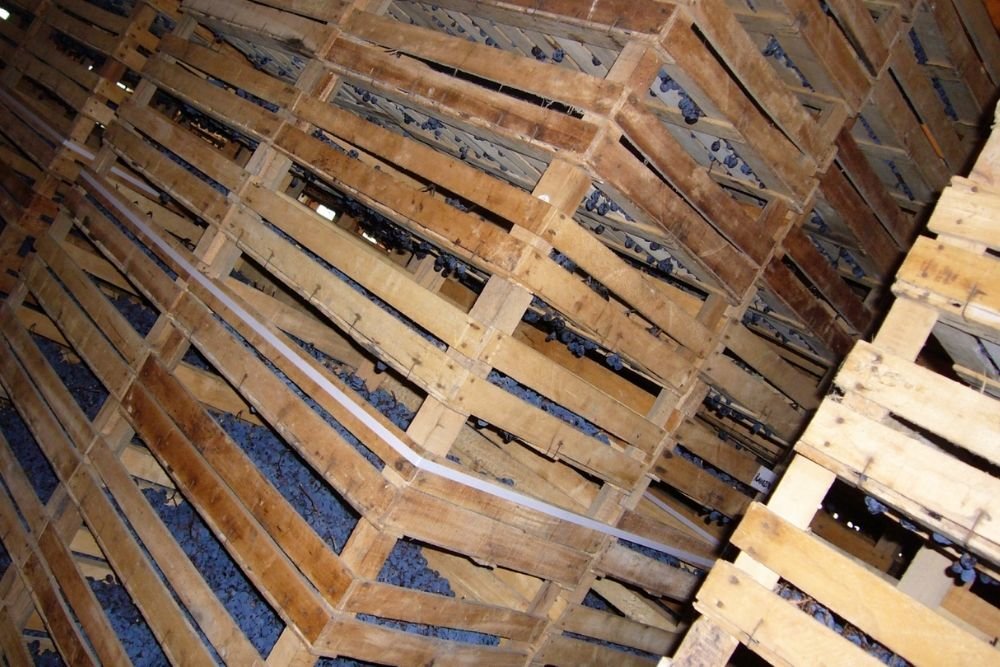 Amarone Classico is arguably the most famous wine in the world made into a dry wine from dried grapes. Yes, that's right, dried grapes!
High in the Valpolicella hills, just north of Verona in Veneto, the Amarone Classico region is one of the more recent DOCG (protected status) icons of Italy, being granted that status in 2009.
The main trick behind this wine is what you do with the grapes after you pick them. A mixture of Corvina and Rondinella grapes are picked as whole bunches and then laid out in special drying racks in temperature and humidity controlled drying rooms. The theory is that the colour, flavour intensity and tannins (important for a full body) are in the skins, not the juice, so you're extracting more intensity out of the grapes. It also manages to achieve more chemical reactions in the grape leading to increased richness and balance in the final wine.
That final wine is usually a very ripe, raisin-aroma packed, full-bodied wine. On the palate, Amarone Classico wines are still very refreshing, with high acidity balancing the high alcohol and flavours of black cherry, brown sugar and chocolate. Not a bad combination I'm sure you'll all agree.
This producer, Le Salette, is well-established as one of the leading producers in Valpolicella located in the very high-quality sub-region of Fumane. Winemaker and owner, Franco Scamperle, is adamant that each wine must be allowed to express the character of the soil from where the grapes are grown.
This wine will show its best after 1-2 hours of decanting and will pair exceptionally well with beef short ribs or gorgonzola cheese.


Etna Rosso 'Serra della Contessa' 2014 by Benanti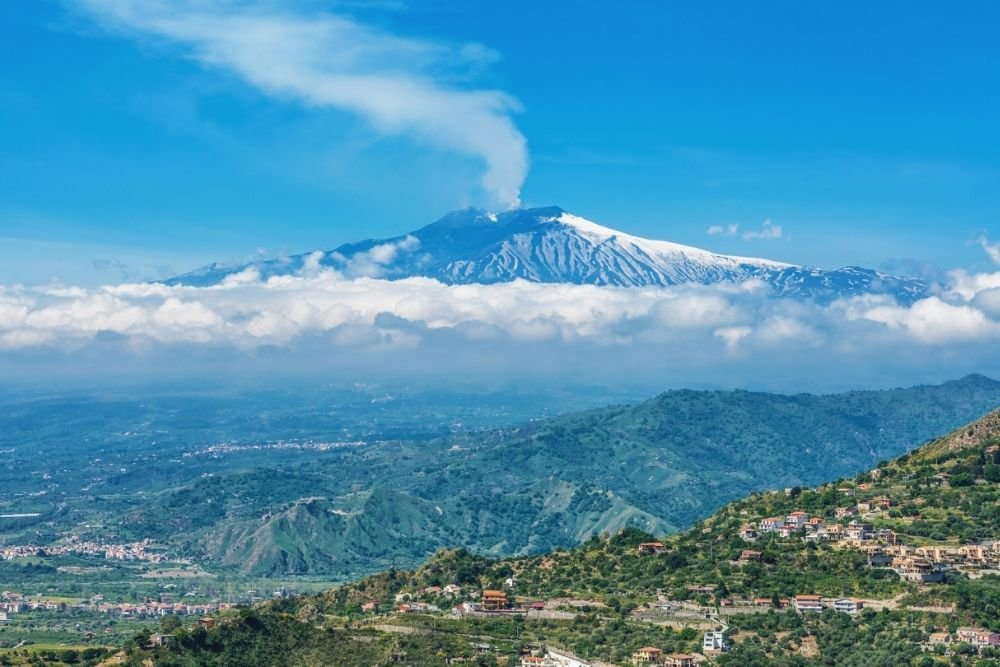 Mount Etna is possibly the most interesting and exciting wine region in the whole of Italy right now. Although it's been a DOC since 1968, it's only in the last twenty years that a whole host of external investors and winemaking teams have taken a long hard look at the vast array of soils, aspects, and slopes and come to the conclusion that this is prime fine wine land. 30 years ago the price of one hectare was less than 5,000 euros, now it's 150,000!
For many years wine used to leave Etna as bulk wine to be blended into the more famous wines of Tuscany and Piemonte to add backbone. Now nearly no wine leaves Etna unless it's in a bottle, proudly displaying the name of the very proud winemaker who made it.
Etna is home to some of the oldest vines in Italy, with some well over 100 years old (including the vines at Benanti). This was due to a quirk of Etna's geology. Of the 12 orders of soil in the world, Sicily has 7 of them, and Etna is a patchwork of soil formations. On most of the mountain the phylloxera louse, which destroyed the world's vineyards in the late 19th century, can't survive. The vines kept on keeping on, and now the ancient vines are producing world-beating fruit for world-beating, elegant wines.
This Etna Rosso by Benanti is produced from indigenous grapes Nerello Mascalese and Nerello Cappuccio. It's ruby red color and is delightfully intense with a generous helping of ripe, red fruit aromas, and a softening touch of vanilla. The less tannic Nerello Cappuccio balances the higher tannins of the Mascalese beautifully.
The Benanti winery is committed to producing only high-quality wines from vineyards located across the different slopes of Mount Etna. Their aim is to highlight the uniqueness of the many different terroirs within the Etna DOC region. Benanti is considered both an iconic producer and a pioneer that has set a very high standard and has certainly inspired other wineries.
This wine is ready to drink right now and would pair fantastically well with a Lancashire hotpot. True story!
---
Related post